Amplificateur numérique K4-450 et système de son musical à haut-parleur coaxial 5X !
: 769
: 2023-03-28 20:11:05

As shown in the video, it shows Sinbosen testing the sound of K4-450 class d amplifier and 5X speakers. Small speakers can feel its powerful sound. Especially treble, clear and penetrating!
The 5X mini speaker is the most compact speaker in the Sinbosen coaxial series. It adopts high-grade laminated wood cabinet and Steel with anti-corrosion coating. The 5X is based on a two-channel passive design with a nominal impedance of 16ohms. The 5X coaxial small speaker is equipped with a 1" diaphragm compression driver and a 5" mid-low frequency unit in the coaxial direction (bass reflex adjustment).
The advantages of 5X 5-inch professional speakers include:
1.Compact Size: 5-inch professional speakers are relatively small in size, making them ideal for use in small to medium-sized spaces where space is limited.
2.
Accurate Sound Reproduction: Despite their small size, 5-inch professional speakers are often designed to provide a high level of accuracy and clarity in sound reproduction. This can be especially beneficial in critical listening environments such as recording studios or post-production facilities.
3.
Versatility: 5-inch professional speakers are often designed to be versatile in their use. They can be used in a range of applications, from music production and mixing to broadcasting and home theater systems.
4.
Lower Cost: Compared to larger professional speakers, 5-inch speakers can be a more affordable option while still providing high-quality sound.
5.
Easier to Transport: Due to their compact size, 5-inch professional speakers are easier to transport and set up, making them a great option for mobile DJs, small bands, and other professionals who need to transport their equipment frequently.
Overall, the benefits of 5-inch professional speakers make them a great option for those looking for high-quality, accurate sound reproduction in a compact and versatile package.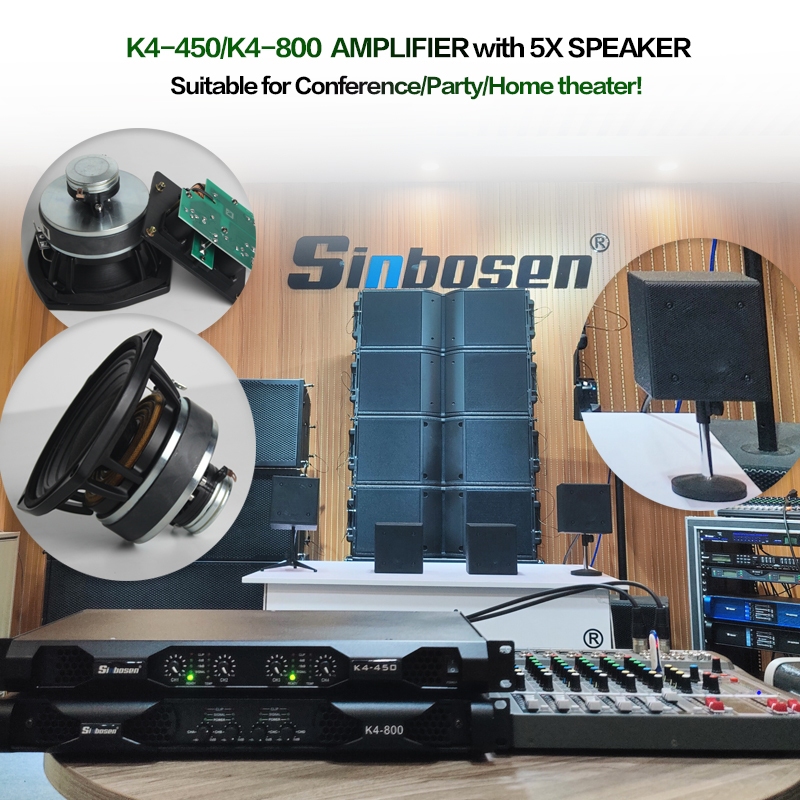 5X
can fl
own with
U-bracket
and
pole-mounted
!
It can be used to mount one 5X on the wall or under the ceiling, with site angle adjustment. When the 5X is stored, the U-bracket can be used to protect the connectors at the back of the enclosure as illustrated below.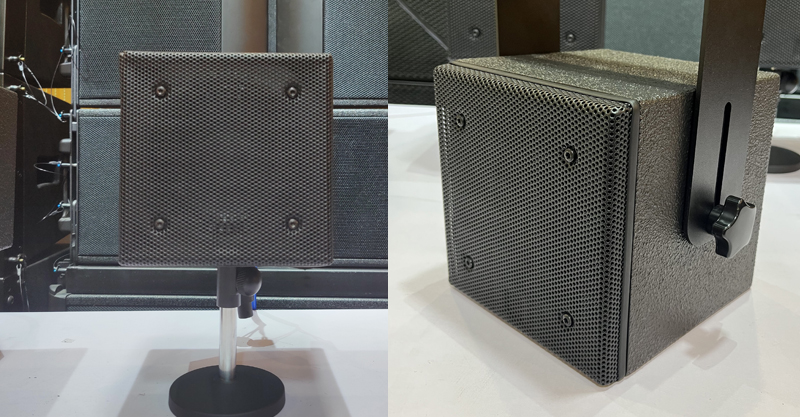 The power amplifier K4-450 paired with the 5X speaker is also one of Sinbosen's best-selling models. It has a volume of only 1u and a weight of 5kg, and has the characteristics of high efficiency, flexibility and compactness of digital series power amplifiers. One K4-450 can be used with four 5X professional speakers, and one channel is connected to one 5X professional coaxial small speaker. The K4-800, which is also a K series digital power amplifier, can be connected to 8
pcs
small 5X coaxial speakers.
In short, this audio system is very convenient and efficient, and the sound performance is also very good! Widely suitable for conference room/church/small party/home theater!
---
Contact Us:


sales2@sinbosen.com
Whatsapp:https://api.whatsapp.com/send?l=en&phnoe=8616676738225
Website:https://www.sinbosenaudio.com/